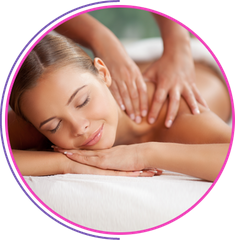 We offer 5 different types of relaxing massage including, Swedish, Aromatherapy, Indian Head, Hot Stone and our latest addition is Infrared.
Swedish massage is the most common and best known type and is a good fit for a beginner or someone whose never had a massage before.
Aromatherapy, is a swedish massage, but scented oils are used to get healing properties into your bloodstream quicker.
Hot Stones are used to ease sore, tight muscles. the heat is transferred to the therapists hands and then to your body.
They really are the ideal way to de-stress your mind and body.
Nicole is our massage therapist and really does have healing hands....you will leave feeling like you're floating on air and you will definitely be back for more. Such an amazing treatment !!!