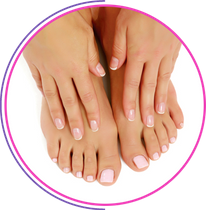 Gel Polish Manicure & Pedicure Treatments
Get those feet flip flop ready for the summer and warm snuggly boots ready for the winter. Gel pedicures available. Treat your feet to some TLC.
We use heated boots in our luxury range, alongside top quality products, that are plant based. We use the Kaeso range. We are also offering Callus peels, an ideal treatment for those of you that do a lot of walking and are tough on your feet, these are suitable for pregnant ladies and those with diabetes.
Manicures with enamel polish are not as popular nowadays, with ladies choosing to opt for gel polish instead. However, a luxury manicure with heated mitts is the ideal way to treat yourself in the cold winter months.
If you are a manual worker who neglects their hands, then this is the treatment for you.